Megan Jones
Makini, Inc.
Helpdesk Manager
George Smith
Makini, Inc.
Senior Expert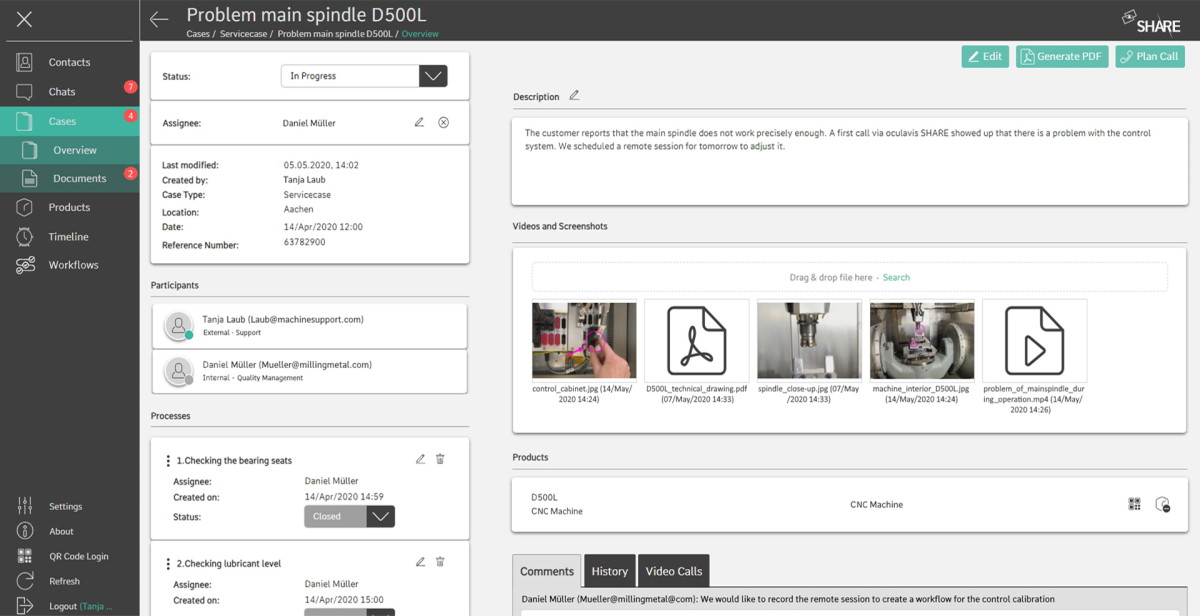 Machine Service
oculavis SHARE is designed to take customer support for machine manufacturers to the next level. Stop traveling the world for service. Provide machine documentation via Augmented Reality to your end users or connect live to your customers' point of view and solve problems remotely.
› Provide remote service
Maintenance Operations
In maintenance operations oculavis SHARE is used to reduce machine downtimes, increase first-time-fix-rates and boost the overall equipment effectiveness of your production equipment in place. Stop loosing productivity and take maintenance operations to the next level with oculavis SHARE.
› Enable remote maintenance
Feature rich solution
Our solution provides all the great features that are needed for a smooth remote support. A variety of management features allow to embed oculavis SHARE in your daily processes to get the most out of your business case.
› Learn about the features
Integration
Discover the possibilities on how to integrate our remote support solution with your existing IT landscape. For the purposes of data exchange, Single Sign On (SOS) and automated workflows with your CRM, ERP or MES systems.
› Have a look at the possibilities
Cloud & On Premise
We offer the most flexible deployment options. No matter if you want to run oculavis SHARE on your local infrastructure or easily deploy your dedicated instance in the cloud. We meet your requirements.
› Get more insights
Device Agnostic
The software platform oculavis SHARE runs on all devices. From desktop PCs and laptops over tablets and smartphones down to smart glasses. It runs on Windows, MacOS, iOS and Android powered hardware.
› Supported devices